Interested in joining our Chapter? Fantastic! Here's what you need to know:
Pledging is basically a semester of getting to know the Fraternity and its Brothers as they get to know you. The Pledge Committee carefully guides pledges through this process. The time commitment is small, however, the more you put into pledging, the more you get out of it. This is an amazing opportunity to make new incredible friends not only on campus, but nationally, that will last a lifetime. If you are interested in pledging feel free to contact the Pledge Master at mbp.nu.pc @ gmail.com.
To be eligible to pledge Mu Beta Psi at Nu Chapter, you must meet the following minimum requirements:
Be at least a second semester freshman
Must have at least a 2.6 cumulative GPA
Must have at least 3.0 music GPA
Attend an acceptable ensemble
Receive and accept a bid (invitation) to begin pledging. To receive a bid, it is advised to attend rush events towards the beginning of the semester, and required to attend the Closed Rush.
And of course, have a love for music!
If you have any concerns fulfilling these requirements, please contact the Pledge Master. Check our calendar at the beginning of every semester for our rush week schedule!
Get to know the Pledge Committee for Spring '17!
Pledge Master:
Samantha Grogan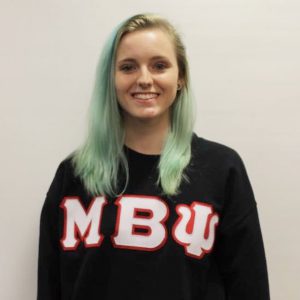 Along with Pledge Master, Sam is also our secretary! She is a junior year music major with a minor in audio design and production. She pledged with the Alpha Tau class of Fall '15. She sings soprano in State Singers and plays piano! Sam makes a living making ice cream sundaes in the summer and has an adorable miniature dachshund who she LOVES to cuddle!!
New Brother:
Joe Kienzle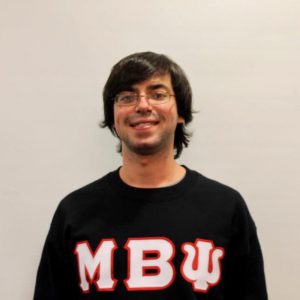 Joe is our Historian! He is a music major with an arts management minor in his junior year. He pledged with the Spring '16 Alpha Upsilon pledge class. Joe plays flute and guitar! He performs in Latin Jazz ensemble, Small Group Jazz ensemble, and Flute ensemble. After graduation, Joe plans on being a freelance musician and audio engineer. He enjoys watching Scrubs and playing Team Fortress 2 and Overwatch!
Assistant Pledge Master:
Santa-Li Zambrano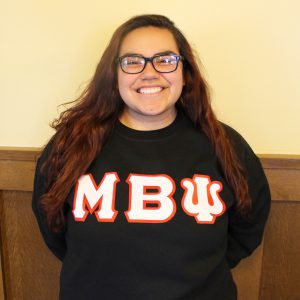 Santa-Li is also our Information Technology Officer and Alumni Representative! She is a sophomore music major with minors in audio design and production and business. She pledged with the Spring '16 Alpha Upsilon pledge class. Her favorite things include singing, a cappella music, Kanye West, and managing our Instagram, Facebook, and Website!!