Interested in joining our Chapter? Fantastic! Here's what you need to know:
Pledging takes anywhere from 4-8 weeks (as per college policy). You will become familiar with the Fraternity and its Brothers as they get to know you! The Pledge Committee carefully guides pledges through this process. The time commitment is small, however, the more you put into pledging, the more you get out of it. This is an amazing opportunity to make new incredible friends not only on campus, but nationally, that will last a lifetime! If you are interested in pledging feel free to contact the Pledge Master at mbp.nu.pc @ gmail.com. You can also express your interest to any Brother you see around campus! We look forward to meeting you!
To be eligible to pledge Mu Beta Psi at Nu Chapter, you must meet the following minimum requirements:
Be at least a second-semester Freshman. (Feel free to come to open rush events even if you are a first-semester Freshman!)
Must have at least a 2.6 cumulative GPA
Must have at least 3.0 music GPA
Attend an acceptable ensemble
Receive and accept a bid (invitation) to begin pledging. To receive a bid, it is preferred that you attend at least TWO rush events towards the beginning of the semester, and required to attend the Closed Rush.
Have a love for music!
If you have any concerns fulfilling these requirements, please contact the Pledge Master. Check our calendar at the beginning of every semester for our rush week schedule!
Get to know the Pledge Committee for Fall '17!
Pledge Master: Santa-Li Zambrano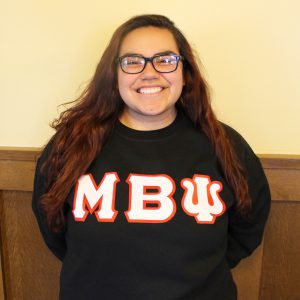 Santa-Li is also our Seargent at Arms! She is a Junior music major with minors in audio design and production and business. She pledged with the Spring '16 Alpha Upsilon pledge class. Her favorite things include singing, a cappella music, Kanye West, and PUPPIES!!
Assistant Pledge Master: Shannon Legott
Shannon is also our Recording Secretary! She is a Senior music major and graduates December 2018! She pledged with the Fall '15 Alpha Tau pledge class. She plays the Ocarina and loves hanging out with friends!
Old Brother: Andy Pullen
Andy is also our Member-at-Large! He is a Senior Public Justice major with a minor in Geology. He pledged with the Fall '15 Alpha Tau pledge class. He plays saxophone, specifically Baritone, and is involved in our jazz ensemble. He is finishing his last year of ROTC. Additionally, he is in the Air Force and will commission as a 2nd Lieutenant upon graduation.
New Brother: Shannon France ft. Pudge the therapy cat
Shannon is also our Treasurer and Webmaster. She is a Senior Psychology major with an Expressive Arts Therapy minor. She pledged with the Alpha Phi pledge class of Spring 2017. She plays the flute, piccolo, ukulele, and sings soprano. In addition to being involved with our organization, she also participates in State Singers, Wind Ensemble, Lab Orchestra, and serves as a Resident Assistant on campus!