The National Vice President of Expansion directs and coordinates all expansion efforts of Mu Beta Psi. It is a two-year term elected by the full Brotherhood at the National Convention.
---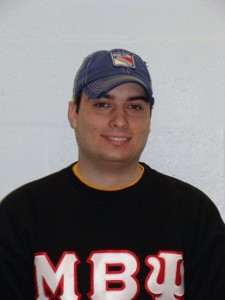 Andy Bronson, an alum of Nu Chapter at SUNY Oswego, has served as National Vice President of Expansion since his appointment to the post in Spring 2014. He has also served as one of the Host Pledgemaster for Tau Chapter at American University in Washington, DC and represented Nu Chapter to the NCE from 2008 to 2011. He earned his Bachelor's Degree in Broadcast Journalism in 2011 and currently works for ESPN.
Andy is most easily recognized at Mu Beta Psi's annual National Conventions by the vintage hockey cap he wears.
His hobbies include playing the harmonica (poorly), bowling (even more poorly), going to pub trivia, playing video games, and hiking. A native of Herkimer, New York, Andy now resides (and demonstrates his lack of bowling talent) in Bristol, Connecticut.
If you have any questions regarding the expansion efforts of Mu Beta Psi, you can reach him by email here.