Major Percy Walter "Daddy" Price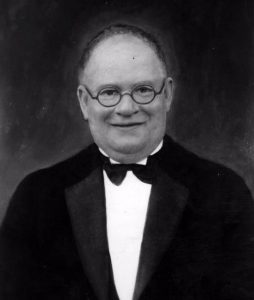 A native of New Hampshire, Percy Price was the Founder of Mu Beta Psi National Honorary Musical Fraternity.  He developed a deep interest in music at an early age and had the ability to play several different instruments.  He came to NC State College in 1918 and began as an assistant in the Textile School.  He applied for and accepted the position of Director of Music in 1924.  In the ensuing eight years, he organized several music organizations, including the concert band, R.O.T.C. band and glee club.  His fatherly interest in seeing his students succeed earned him the nickname "Daddy."  His work with the R.O.T.C. Band earned him the honorary title of "Major."
In order to recognize those students who went above and beyond in the music programs, Price organized and established Mu Beta Psi in November 1925.  He played a crucial role in the establishment of Beta Chapter in 1929.  He was elected to serve as National Executive Secretary in 1931 and continued the fraternity's expansion efforts.  Price passed away unexpectedly on July 19, 1933 at the age of 46.  He was laid to rest in Chicopee, MA and the Price Music Center at NC State is named in his honor.
---
Joseph Carson Matthews (Alpha)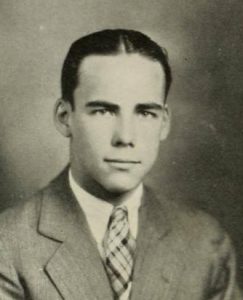 Joseph Matthews was a member of the North Carolina State University Class of 1928.  He was a member of the Concert Band and the College Orchestra.  He was initiated into Alpha Chapter in the 1926-1927 time frame.  At the first National Convention held in November 1929, he was elected to serve as the first National President of Mu Beta Psi.  During his term of office, the fraternity took steps to formalize the National Organization and set the fraternity on a course to grow in the coming years.Following graduation, Matthews worked for the North Carolina Department of Agriculture as a chemist until 1933 when he was placed on active duty with the Civilian Conservation Corps.  During World War II, he was assigned to the 106th Infantry Regiment.  He was captured during the Battle of the Bulge and spent six months in a POW camp.
After retirement from the military, Matthews earned a Ph.D. in Agricultural Economics and joined the faculty of NC State serving as an Assistant Professor of Economics and a member of the staff of the Center for Occupational Education.  He retired from teaching and research in 1973.  He remained active in many organizations including the 106th Infantry Association — of which he served as a lifetime member of the Board of Directors.  A few months before he died in September 2000, the organization presented him with the Order of the Golden Lion, its highest civilian citation, for his dedicated service and commitment for over fifty years.
---
Roberta M. "Bobbi" Tremain (Alpha)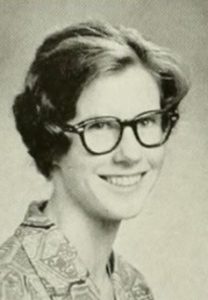 Bobbi Tremain is a native of Hespeler, Ontario.  She attended the Hamilton Institute of Technology and graduated in 1961.  She came to NC State for textile chemistry where she was transferred in as a senior before completing her master's degree in the same subject. It was during her time at NC State that she would become the first of three female Brothers of Alpha Chapter — initiated on April 14, 1964.
In the years that followed, Tremain spent 14 years at General Aniline and Film Co., working as a research chemist, development chemist, regional lab manager, and national lab manager in various locations. She joined CHT R. Beitlich USA in 1982 as development manager for softeners and lubricants and remained there until she retired in 1999. Since her retirement, she has been an active member of the foundation board of the Textile Technology Center in Belmont, NC.  She also serves as a member of the Piedmont Section Intersectional Research Paper Competition Committee. Tremain also was a member of several research committees including RA70 Yarn Dyeing Technology, RA89 Hand Evaluation Test Methods, and administrative committees including Publications, Editorial Board, Joint Membership, Textile Education, and the Technical Committee on Research.
---
Luther Macon Epps (Alpha)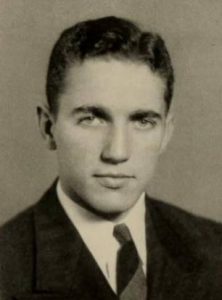 Luther Epps was regarded as an American engineer, inventor, author and poet. He studied Aeronautical Engineering at North Carolina State University, graduating in 1940.  A brother of Alpha Chapter, he was a member of the Red Coat Band and the Concert Band.
Epps worked as an engineer and manager for the Grumman Aerospace Corporation for 37 years. Most notably, he worked on the Apollo Lunar Module as the Assistant Program Manager and helped American astronauts land on the moon.  As an inventor he received a patent in 1978 for a "combined water heater and sauna room heater device."  He was a lifelong member of the Rotary International.
After his retirement, Epps founded the I-Cubed Corporation, which specialized in new innovations and part-time jobs for other retired engineers.  Epps authored numerous books, among which were short stories, children's stories, books on designs, books on spiritual traditions and his memoirs.  He died on August 30, 2012 at the age of 92.
---
Samuel Middleton Hines (Beta)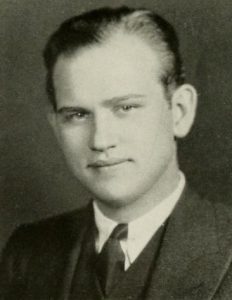 Samuel Hines was originally from Warsaw, NC.  During his time at Davidson College, he played saxophone in the college band, college orchestra, and was Director of the Jazz Orchestra.  He represented Mu Beta Psi on the college's Honorary Fraternity Council. He was also a member of Phi Beta Kappa.He graduated in 1934, earning his degree in English.
Hines attended graduate school at UNC Chapel Hill and earned a degree in Psychology.  During World War II, he served in the U. S. Navy.  He later moved to Richmond and worked for the Veterans Administration until 1949.  He then worked for the CIA from 1949 until his retirement in 1974, starting as a budget analyst. He was appointed Director of the Budget by Richard C. Helms in the late 1960s and held that position until his retirement. He was awarded the CIA Intelligence Medal for Merit at the end of his career.
Hines died in March 2006 at the age of 92.
---
Hugh

 Frederick 

MacMillan

 (Beta)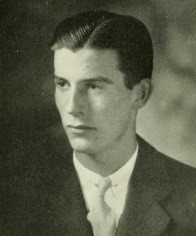 Hugh MacMillan was from Atlanta, GA.  He was initiated into Beta Chapter of Mu Beta Psi at Davidson College.  As an undergraduate, he was active in the Glee Club for four years, both as a singer and as their Business Manager.  He graduated from Davidson in 1931, earning a degree in Political Science. He later earned a degree from the Emory University School of Law in 1934 and began his career at the height of the Great Depression.
In 1937, MacMillan joined the legal department of the Coca-Cola Company, and after service in World War II, he went to work for Coca-Cola Export, based in New York. He was responsible for introducing bottling operations to Japan, India, and other Asian countries.  He returned to Atlanta in 1972.
MacMillan's gift of $2.3 million enabled the Emory University Law School to launch a $12 million construction and renovation project that roughly doubled the school's library space. Upon completion, it was dedicated the Hugh F. MacMillan Law Library in his honor.
He died in September 1995 at the age of 85.
---
Paul Brown Fry (Beta)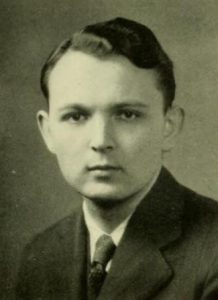 Paul Fry was originally from Welford, SC.  He attended Davidson College and played a crucial role in the establishment of Beta Chapter of Mu Beta Psi.  He was elected to serve as the first National Vice-President at the 1929 National Convention.  A year later, he was elected National President.
Fry earned his Bachelor's Degree from Davidson in 1930 and went on to earn his Master's Degree from Appalachian State University.  He taught music in the junior and senior high schools in Albemarle, NC for forty years. Additionally, he served for thirty years as the registrar for the Summer Choral Workshops sponsored by N.C. Summers Institute in Choral Arts.
Fry assisted in the establishment of the High School Small Ensemble Festival, held annually at UNC-Chapel Hill. He served as the secretary and vice-president of Modern Music Masters Society (Tri-M), a national honor society for outstanding high school musicians. His leadership in the Music Educators' National Conference included the chairmanship of the Choral Section, and a term as President of the state Music Educators' Association. He was a charter member of the American Choral Directors' Association and was the first president of the North Carolina Chapter.  In 1988, he was the recipient of the Lara Hoggard Award for distinguished service to choral music in North Carolina.
Paul Fry passed away on August 3, 1989, at the age of 82.
---
Dr. Robert Vaughan (Epsilon)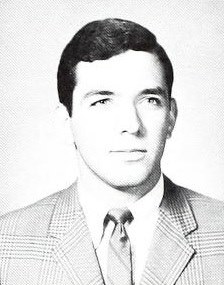 Dr. Vaughan earned his B.A. from Washington and Lee University.  During his time there, he was a Founding Brother of Epsilon Chapter of Mu Beta Psi and served as the first President during his junior year.  He went on to earn his M.A. and Ph.D. in English from the University of Virginia. For two years before graduate school, he taught English, directed two choral groups, coached a state champion track team, and advised the literary magazine at the Episcopal High School.
Dr. Vaughan is the founding president and CEO of Virginia Foundation for the Humanities, founding Director of the South Atlantic Humanities Center, and a member of the faculty of the University of Virginia where he taught for 35 years in the College of Arts and Sciences (English) and in the Darden School (MBA and Executive Education Programs).  He is a frequent speaker on the humanities in the public interest to institutions including the Congress, the National Conference of State Legislators and numerous civic, cultural, and educational institutions.
---
Commander Robert Allan Schlegel, USN (Epsilon)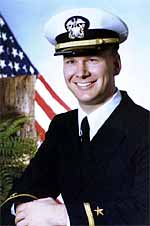 Born in the town of Gray, ME, and raised in Philadelphia, Robert Schlegel attended Washington and Lee University. He played the saxophone in the Jazz Lab Band and became a Brother of Mu Beta Psi's Epsilon Chapter. He was also a member of the Chi Psi Fraternity, serving as their Secretary, and was active with WLUR-FM radio. He graduated magna cum laude in 1985, earning his degree in Journalism, with a minor in French. He went on to earn a Master's Degree in International Affairs from Old Dominion University.
Schlegel completed the US Navy the Officer Candidate School in 1986.  His first sea tour was on board the U.S.S. Spartanburg County.  In 1988, he transferred to U.S.S. Harry E. Yarnell for a tour as Damage Control Assistant. He then served as Cruise Missile Instructor at Fleet Combat Training Center Atlantic. From 1993 to 1996, Robert served a department head tour as Engineer Officer on U.S.S. Scott.  In 1999, he was assigned to serve as the Executive Officer on U.S.S. Arthur W. Radford. He held this position until September 2000.
Schlegel then reported to the Pentagon, where he assumed duties as Deputy Current Operations and Plans Branch Head for the Chief of Naval Operations.  In December 2000, he was selected for afloat command and was promoted to the rank of Commander in August 2001.
On September 11, 2001, Schlegel died as a result of the deliberate crash of American Airlines Flight 77 into the Pentagon. He was laid to rest in Arlington National Cemetery.
---
Mellissa (Lisa) 'Lachi' Offoha (Mu)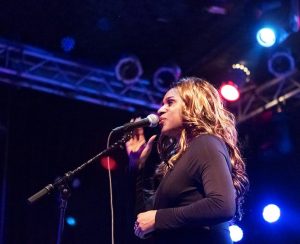 Lisa "Lachi" Offoha began writing songs and short stories at an early age. She attended the University of North Carolina at Chapel Hill where she created the all female a cappella group The UNC Cadence. Initiated into the "Tau Twins" class of Mu Chapter, she graduated from Chapel Hill in 2005.
Lachi then moved to New York City to embark upon her music and writing careers while studying Music at New York University. Apart from obtaining side music gigs, she worked at the New York District's United States Army Corps of Engineers.  She was spotted at a South by Southwest showcase by Fanatic Records/EMI-Caroline Distribution, who then signed her for one album. In July 2010, her self-titled, alternative pop album Lachi was released.  Songs from the album included the single "We Can Fly," which was featured on Oprah Radio, CW and NPR.  In June 2015, she released The Boss EP through Trend Def's Sony imprint, which includes the single "Boss" which found a prominent feature on Oxygen Networks's Bad Girls Club.
In October 2015, Lachi released her Fiction narrative, The Ivory Staff, under the name M. Lachi through the independent publisher, Library Tales Publishing.
In August 2016, Lachi collaborated with Israeli World Music producer Zafrir Ifrach and Moroccan vocalist Maxime Karouchi to create the Mediterranean-infused EDM track Dalale.
In 2017, Lachi teamed up with artist management firm Big Management and released the EDM Hip Hop crossover track "Living A Lie" featuring Styles P.  In 2020, Lachi performed a virtual concert entitled "Lachi and Chill," for Disability Pride Virtual PA.
Lachi currently lives in New York City.
---